I posted a circuit workout called Turkey Buster Workout the other day to help burn off some of those Thanksgiving calories. I want to talk a little about circuit training and why it's great to incorporate into your workouts. I personally love them and teach 2 classes a week that include circuit training.
What is it
Circuit training is a short burst of exercises targeting different muscle groups. Each circuit should include upper body, lower body, and core. The exercises should last anywhere between 30-60 seconds with little rest period between each exercise. Circuit sets should include 4-10 exercises and repeated 2-3 times.
Progression
A minimum of 48 hours  is recommended rest between circuit training for recovery.
Benefits
Circuit training is great for mobility, stamina, and strength. When you combine cardio and strength training you can burn fat and tone muscle. Circuit training can be performed anywhere with little or no equipment and takes little time.
Example
The following is an example circuit of ten exercises. Source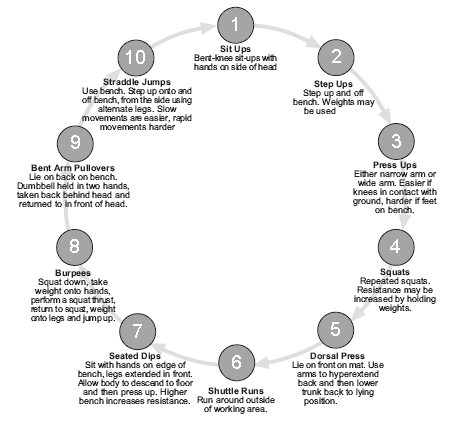 Do you do circuit training as part of your workout program?